Street Parking 3D
5.2
Driving Simulator – Learn How to Park Your Car on the Street
Are you having difficulty parking your car? Would you like to practice and improve your car parking skills? If yes, then you should try this driving simulator. Street Parking 3D is a nice game in which you get to learn how to properly park various vehicles without causing any damage to them. It will put you inside a variety of different vehicles ranging from small cars to buses and even trawlers. Your job would be to park them at the exact spot shown to you after following the arrows visible on the road. To make things challenging for you, various roadblocks and obstacles will be put in your way. You need to avoid hitting these barriers while trying to park the vehicle.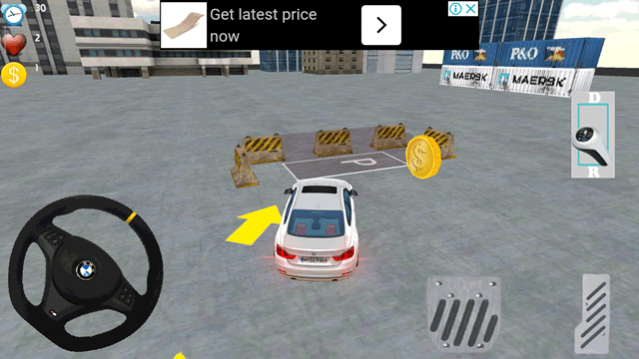 Street Parking 3D has smooth gameplay that is complemented by some decent visuals. However, the highlight of this driving simulator is its intuitive and user-friendly controls. You will find them easy to understand and won't have any trouble in mastering them. There is a virtual steering wheel provided to you for steering the vehicle in the direction you want. It is located on the bottom-left corner of the screen. On the bottom-right corner of the screen, you will find the pedals for the accelerator and the brakes. There is a gear-switching option provided to you as well. It is located at the top-right corner of the screen and you can use it to switch the car from drive to reverse gear and vice versa.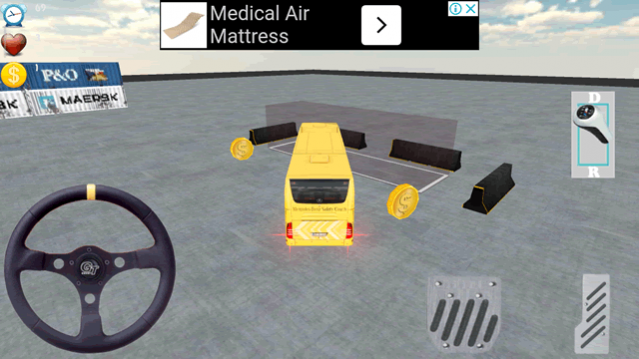 This driving simulator lets you drive and park various types of vehicles. Parking each type of vehicle comes with a different challenge. For instance, cars need to be parked in very small and congested spaces. On the other hand, buses get ample parking space but maneuvering them into position is a nightmare. The trawlers are even harder to park as you have to keep track of the movement of the load behind them. You will have to park all of these vehicles in a particular spot in Street Parking 3D without causing much damage to them. This task won't be easy because there will be various obstacles and barriers in the way. Hitting a roadblock will lose you a life and you only have three of those.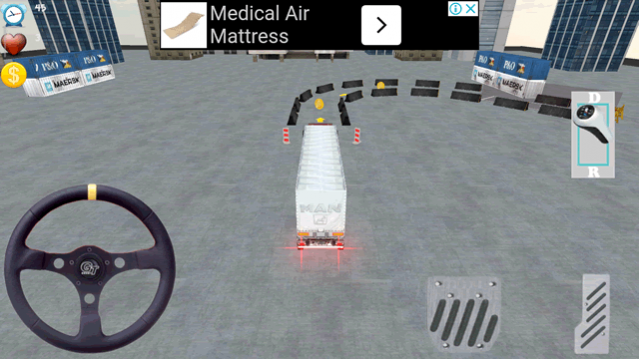 Street Parking 3D provides various challenging levels to you. Each challenge has the same goal which is to park the vehicle in a fixed spot that is surrounded by various barriers. You aren't allowed to touch the barriers more than three times. Moreover, you have a limited time in which to park the vehicle. If you exceed this time, you won't complete the level and will have to do it again. Aside from parking the vehicle in the spot provided, you will also be asked to collect coins scattered in and around the parking spot. Collecting these coins is important if you want to unlock new vehicles and new levels.
Features:
Multiple types of vehicles to park
Lots of challenging levels to complete
Follow the arrows shown on the road
Park the vehicle at the designated spot
Various obstacles to avoid while parking
Collect coins while trying to park the vehicle
A limited number of lives available
Park the vehicle within a limited time
View the vehicle from various camera angles
Unlock new vehicles and levels with coins
Conclusion:
Street Parking 3D is a gaming app that will primarily appeal to people who have difficulty in parking their cars on the street. It offers them the chance to work on their car parking skills by providing a series of challenging car parking tasks that require them to park their vehicles in very tight spaces. It is a driving simulator worth having on your phone for all novice drivers.
---
Add a review
Tell us your experience with
Street Parking 3D
5.2
RELATED PROGRAMS
Our Recommendations
---
---
---
---